As an ideal alternative to being responsible and saving money, I have been traveling Europe since the middle of September. Although this continent generally lacks the vivacity of Asia and Latin America, something keeps me coming back – maybe it's the dairy products. I traveled with my father in Paris and Budapest, and we spent a rather intense month together in Italy. I could talk about Paris, which was charming, electric, but probably not worth the 3 Euro espressos. Or I could talk about Budapest, a city I had reviled after an earlier visit, when a drunk Hungarian threatened violence against me for reasons too dumb to explain, but which I have now realized is filled with quirky, acerbic, and weirdly charming personalities. I could talk about Naples, which stunned me with its unexpected and delicious pizzas and its sidewalks filled with garbage and poop. Or about Pompeii, which amazed me with both its sheer size, on the one hand, and with the intimacy and detail of its domestic wall paintings, on the other. I could share my trite and predictable love for Rome, with its mix of millennia-old sophistication and inimitable Italian liveliness, and the miraculous fact that even the poshest restaurants in the center will still sell you a cappuccino for a Euro. But really, I'd rather talk about Serbian buses.
You might my say my real adventure began when my dear father flew back to Canada, and I flew out of Rome for the somewhat arbitrarily-chosen destination of Timișoara, Romania. Being located near the Serbian border, it was a cheap gateway to the Balkans (thanks, Wizz Air!), and also an opportunity to give Romania a second chance after my rather dispiriting first visit. Even with the beauty of the snow-covered Transylvanian forest and a certain railway cop's charming disregard for protocol during my last visit, it was not a country that I had any desire to return to – but as it turned out, my weekend in Timișoara was absolutely delightful. I could talk about Timișoara's low-key charms, its tranquil riverside, and its amazingly friendly women who disproportionately resemble supermodels. But obviously, none of this would be as interesting as talking about Serbian buses.
My first and least traumatic Serbian long-distance bus experience occurred when I attempted to wrangle some transportation from Timișoara to Belgrade. Conveniently, the Timișoara-Belgrade trains had just stopped running a few months before, leaving a somewhat sketchy minibus operator with some damning online reviews as the only game in town. They offer door-to-door service whether you want it or not, and I had to call them up on VoIP to book my ride. The mildly cranky Serbian operator demanded I provide a phone number with my booking, no matter how many times I insisted I had no local SIM card. A WhatsApp account wasn't an option, and so I, in desperation, gave them my father's number in Canada. Ultimately realizing that asking them to call my father in Canada at 2 AM to confirm my pickup time was less than ideal, I called back and gave them the number of one of the fast friends (no, not that kind of fast friend) who I had made in Timisoara that weekend.
The next morning, I finished packing and waited patiently for the minibus. Due to the unfindability of my apartment, there ensued a dizzying game of phone tag wherein the driver phoned my friend, my friend called me on WhatsApp, and I relayed the information to my friend, who proceeded to call the driver back. I suspect that the driver was on the verge of ditching me by the time I finally tracked down his vehicle. We set off amidst grey skies and rain. As I would later see, I would not be so lucky with subsequent Serbian buses.
The ride to Belgrade proceeded without any mishaps. I sat next to a very friendly Serbian man named Dragan (which I think means Mr. Good), who, thanks to his EU-related job, was eager to tell me far too much about the inner workings of the European Union, and who kindly treated me to a cappuccino at a gas station after I crossed into Serbia without a Dinar to my name. We exchanged numbers with the promise of a man-date, and I checked into my dismal basement Airbnb to hide out from the miserable weather.
Belgrade didn't seem like the most interesting city for someone who's not interested in getting drunk cheaply while listening to world-class club DJs, but Dragan was not the last friendly Belgradian I would meet. For every crusty post-communist holdout, I would meet multiple cheerful, friendly locals who either spoke good English or could somehow tolerate my pidgin Serbo-Croatian. I didn't see much of the city, especially with two solid days of wretched weather, but I happily filled my belly with inexpensive dairy delights from the local markets: 12% fat Greek-style yogurt so rich as to make you weep with joy; pavlaka, which is supposedly a kind of sour cream, but tastes more like a very lightly-fermented yogurt (and is also made with bacterial cultures), and clocks in at a tummy-flattening 20% fat content; and the very pinnacle of Balkan dairy decadence, kajmak, a delirious ~60% fat concoction that toes the line between cheese and butter more finely than I ever thought possible.
The sightseeing itself did not impress, with the MAJOR exception of a Serbian Cat Hotel that I discovered in a city park. On an especially windy and rainy afternoon, an entire gang of cats was huddled up inside this deluxe parkfront property: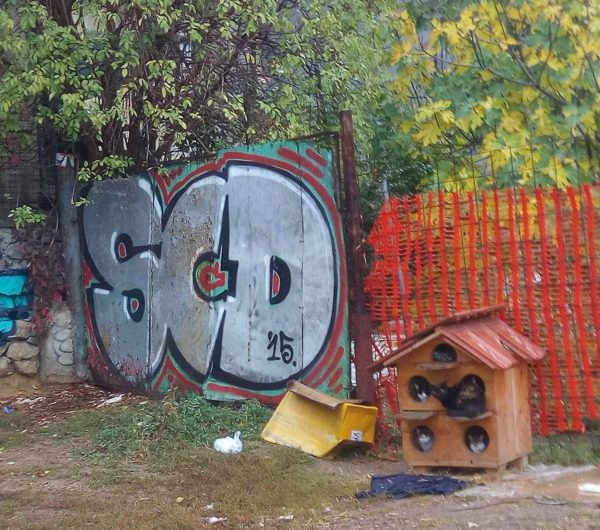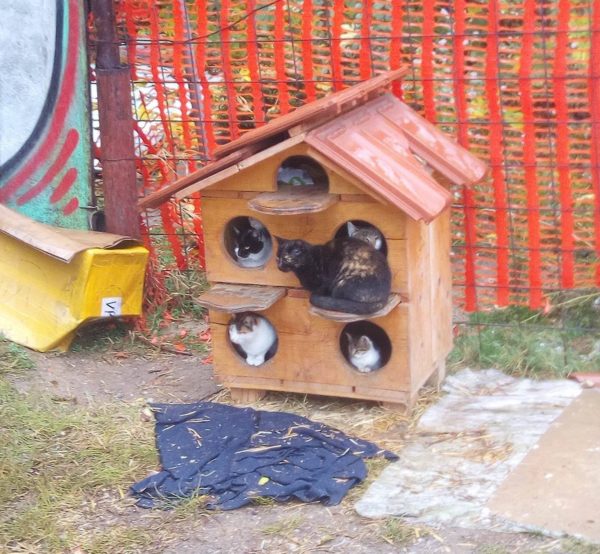 The next day I returned to the park – since it was located next to a large street market, of course – and discovered the reason for this critical mass of cuteness. The proprietor of the establishment was there, feeding an even more staggering number of his feline friends. It was kind of eerie, like something out of Hitchcock's The Birds, except the birds were dead and inside the stomachs of cats.
As an honourable mention in the cute animal department, I must also single out this dog drinking out of a fountain in Belgrade Fortress:
After a few days of photographing domesticated animals and fortifying myself for the coming winter with high-fat dairy products, and with my man-date sadly never having pushed through, I set off to a more scenic destination: the mountain town of Užice, near the Montenegro border. But unfortunately, Serbia's malevolently sentient buses had their own plans for me.
I checked out of my dismal Airbnb a bit later than I should have, cutting it quite close for the bus to Užice that I had already pre-booked online. I walked a few metres from the Airbnb to a city bus stop and hopped into a bus headed downtown. I had a bus card pre-loaded with credit, which I needed to tap on an RFID reader upon entering the bus. However, since I was lugging a bulky suitcase with me, I decided to move it fully inside first before tapping. With my suitcase safely in place, I stood in front of the machine, card in hand, waiting to tap. Several women were blocking the machine, and unbeknownst to me, they were actually ticket inspectors disabling the machine to prevent anyone else from tapping it. Within a few seconds, one of them demanded I give her my card. She angrily informed me that I had broken the rules by not tapping immediately upon entering, and that I would have to get out and pay a fine, which she euphemistically referred to as purchasing a "special ticket". The time from me entering the doors of the bus to being apprehended was perhaps 20 seconds.
Due to the sheer stupidity of the situation, it took a while for me to even agree to get out of the bus. I could see that the driver wasn't going anywhere, though, so I reluctantly got out and find myself on the sidewalk surrounded by no less than three ticket inspectors – bureaucratic inefficiency at its finest. They continued insisting that I pay for the "special ticket", which cost 2000 Dinars, or about 17 Euro – not a lot of money, but the stupidity and offensiveness of it all was priceless. In my stubborn way, I kept repeating my side of the story and explaining that it had all happened within the span of 20 seconds. They began to threaten to call the police, who would levy an even more special fine of 6000 Dinars, or worse. They informed me that the bus had CCTV cameras, which was probably supposed to make their threat sound more serious, but mostly just made me morbidly curious about whether these failed law enforcement agents really wanted to create an international brouhaha over a 20-second video of a Canadian tourist patiently waiting to pay for his bus ride. As it turned out, they didn't, and by calling their bluff – or just being too stubborn to do anything except stand there calmly repeating my story – I was finally rewarded by being left alone on the sidewalk with little chance of making it to Užice in time.
Sidebar 1: A friend who I related this story to asked me if I thought the inspectors were legitimately corrupt. I guess I wouldn't have known until I saw their Very Official Special Ticket Receipt (if even then), but my suspicion is that they were simply an unpleasant group of people enforcing rigid rules with complete inflexibility. Maybe they had a quota to meet?
Sidebar 2: An example of rules being enforced rigidly and in a completely corrupt way in Eastern Europe can be found in my trip three years ago to Kyiv, Ukraine, where some probably-real cops stopped me and informed me that it was a crime for me to be walking around without a passport (especially in wartime), and that I would have to go to the police station to be pay a fine. But of course, there was "another way", if I would only cut out the middleman and pay a smaller fine directly to them without all that messy paperwork. No matter how many times they warned me about the problems that could come from doing it by the book, I calmly stood my ground and insisted that I'd prefer to do it properly at the station. As it turned out, they loved paperwork a lot less than they loved bribes, and they – yep, you've got it – left me standing alone on the sidewalk.
I desperately hailed a taxi and, in my best bad Serbian, told the driver to take me to the bus station. In a reverse miracle, the 1.5 km, 10 AM ride to the station was a grinding gauntlet of traffic, and I arrived a few scarce minutes before the bus's scheduled departure. After much wandering around the platform, I confirmed that the buses in Serbia do run on time, and I had indeed missed it. My online ticket wasted, I purchased another one at the ticket counter and sat around the station cafe for 2 hours, drinking Turkish coffee and grateful that, if I had to miss my bus, at least I got to do it in a really interesting way.
Užice ended up being exactly what I needed. Although the city is infamous for being quite architecturally ugly – most of all its eyesore of a decaying downtown hotel – it was still incredibly pleasant to walk around and observe life in a small Serbian mountain city.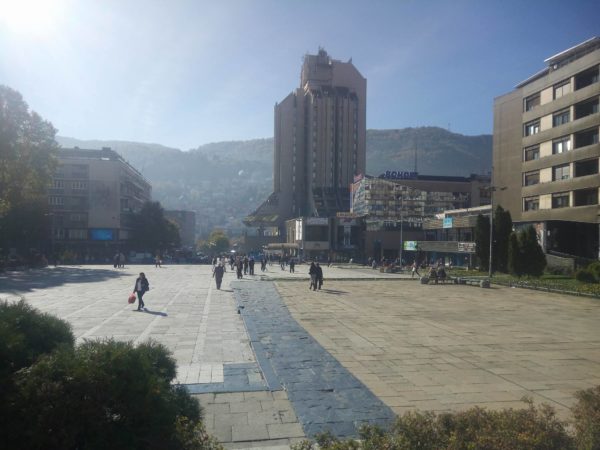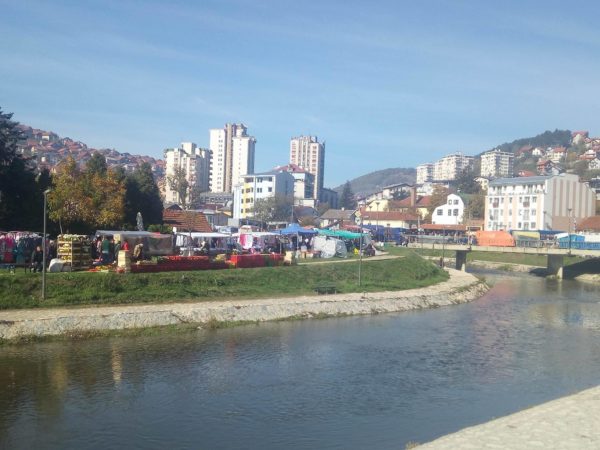 And instead of a weird-smelling basement unit with a fold-out sofa and a coffee table, I got a beautiful apartment with a great kitchen and a proper dining area. Even catching up on hours of online work managed to be a pleasurable experience with such a comfortable workspace, and with the usual assistance from my trusty espresso pot.
I also took a break from work to explore the lovely forest trails near the city, built on an abandoned railway line. Passing through dark railway tunnels and emerging to beautiful new vistas was a singular experience, and I even managed to adopt a dog along the way. He walked with me for a while, but seemed to get scared of the darkness when I entered a tunnel. I heard him outside the entrance, whimpering in grief over the loss of his Ten-Minute Master.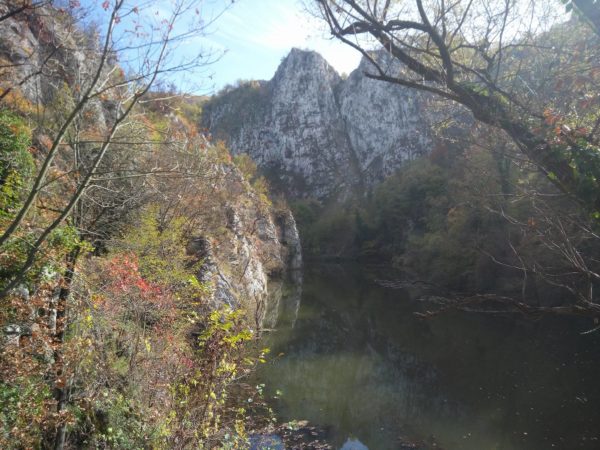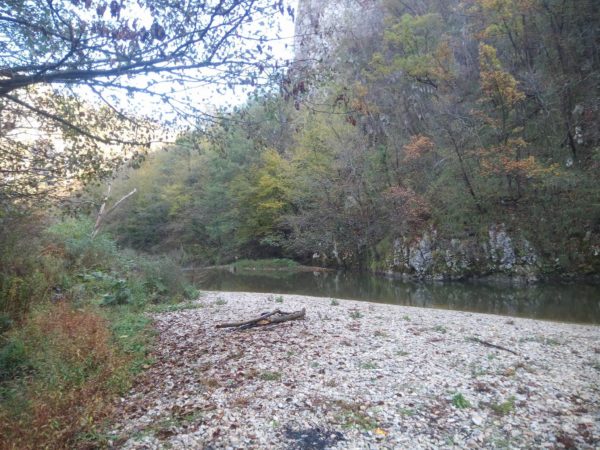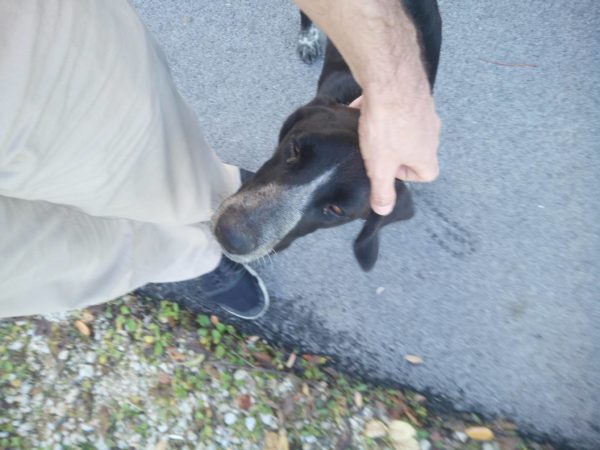 I left Belgrade partly as a way of escaping from the Basement Mold Dungeon, and I was likewise forced to leave Užice after two nights because my heartbreakingly beautiful apartment had been booked by some sort of weekend warrior. Not wanting to give up mountain life anytime soon, I chose as my next destination Žabljak, an even higher-altitude town in the mountains of Montenegro. So there I was the next morning, all packed and ready to go, when the apartment owner arrived to helpfully drive me to the bus station – even though it probably would've been a 5-minute walk, even with my suitcase (thanks, Slavko!). I arrived at the unbelievably depressing station at 11:45 AM, made it to to the waiting area for my 12 noon bus, and seated myself patiently at Platform 10. And waited. About half past 12 I started talking to a Chinese tourist, a nice young woman who compensated for her deficiencies in English by being very LOUD and ENTHUSIASTIC – a strategy that very nearly worked. In a noble mix of heroism and foolishness, she was traveling alone through the Balkans with no Serbo-Croatian and not very much English. She ended up asking me to Google bus schedules for her on my phone because she literally had no way of typing in English – let alone Serbian – on her iPhone.
As the bus continued to run later and later, we stepped over to the coffee shop, which was a window perhaps 20 metres from the platform. We drank dubious coffee and engaged in a sort of trilateral cultural exchange with the coffee vendor, who spoke fairly good English, expressed her unhappiness with life in Serbia, and regaled us with her rather questionable pronunciation of xie xie. During this whole time I was keeping my peripheral vision on the platform – or so I thought.
After the conclusion of our Coffee Mispronunciation Exchange, I began the arduous 20 metre trek back to Platform 10 and asked about the bus. I was then informed that it had already come and gone in the time that I drank one very small plastic cup of bad coffee. Dazed, I returned to the ticket window and confirmed that there were no other buses to Užice until the next day. And I had painted myself into a perfect corner by already changing almost all of my Serbian Dinars to Euros (the currency of Montenegro), pre-booking a room (with cancellation fee) in Žabljak, and missing the last bus of the day.
At a loss for what to do, I wandered over the train station next door, which somehow managed to be infinitely more depressing than the bus station. But as luck would have it, the Belgrade-Bar train, which travels to the southern coast of Montenegro, was about to pass through. (Or more specifically, I was lucky that the trains in Serbia are not as punctual as the buses, since I would have missed the train if it had been on time.)
I shared a cabin on the train with some English-speaking university students who were helpful but also seemed to be somewhat wearily enduring my idiot-tourist schtick.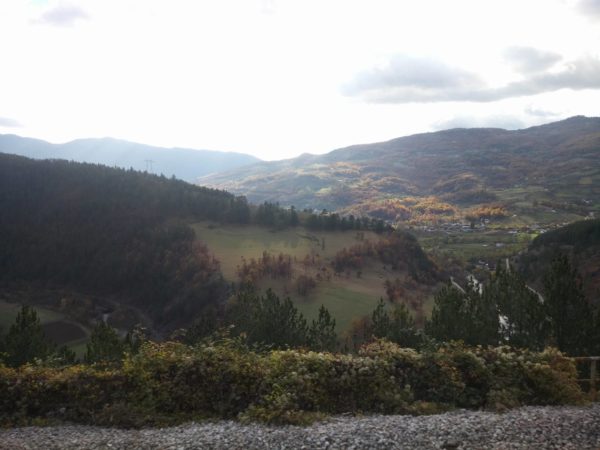 As the train lumbered on past pristine mountain views, I frantically interrogated the youngsters and, through WhatsApp, with the owner of my guesthouse in Žabljak, trying to figure out where I was getting off and what the hell I was doing. Eventually, it was unanimously decided that I should get off at Prijepolje, right before the Montenegro border, take a bus to Plevlja on the other side, and then connect from there to Žabljak.
I arrived at Prijepolje around 5 PM and availed of the bathroom facilities in the train station, which basically involved urinating on somebody's feces that had been left piled up on a squat toilet. This didn't bother me at all, which is saying something either about the kinds of toilets I've used in my travels or about where I was at by this point in the day. After stepping out of the station I discovered that the next bus to Plevlja would be leaving around 9 PM. Figuring that this would effectively eliminate my chances of sleeping in Žabljak, I decided to take a taxi to Prijepolje and see if I could catch a bus from there. The taxi driver was a gregarious middle-aged man whose English was every bit as good as my Serbian. This gave me a chance to practice my Serbian on the way, with plenty of help from noted Serbian tutor Offline Google Translate.
Upon arriving in Prijepolje we discovered that the next bus would be at 4 AM the next day. The driver seemed like a good guy, and he gave me a very fair price to continue on to Žabljak, so I decided to further escalate my increasingly ridiculous efforts to avoid paying a 13 Euro cancellation fee. As the mountains descended into darkness, I fiddled with the radio in his car, trying to find something good to listen to – without much success, since it was mostly bad American pop. By the time we arrived in Žabljak, the world-famous scenery was completely obscured by the darkness. However, what I can report so far from Montenegro is that its supermarkets are apparently staffed by very nice people who sell very tasty dairy products, and that the country has at least one very comfortable double bed. This is, at least, a very good start, and more will surely become known in the daylight. Also to be discovered upon leaving Žabljak: whether the buses in Montenegro hate me, too.